Join our special interest group!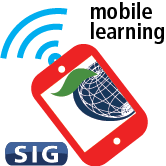 Upcoming Events:
Thursday, May 9, 2013, 8 PM: Mobile Learning Open Mic: Supporting Projects with Mobile Devices
Join us on Thursday, May 9, at 8 PM to share how you are using mobile devices to support student projects. Each presenter will have 5 minutes to share. These presentations are meant to be informal, but you may have a few slides or video as part of your presentation. Click here to access the proposal form. Deadline: May 3, 2013
We'll meet at 8 PM in VSTE's Adobe Connect Room. Free and open to all.
VSTE's Mobile Learning Special Interest Group is dedicated to learning with mobile technologies.
The Mobile Learning SIG elected its first officers at the December 2011 meeting:
Camilla Gagliolo, President
Katie Neville, Vice President
Bea Cantor, Secretary
We've thought of a few reasons why you may want to join us with your membership:
1. A SIG is a great opportunity to network with other innovative educators in Virginia.
2. This SIG will be organizing the most helpful information for educators thinking about purchasing decisions of mobile technologies for their school(s).
3. This SIG will be sharing success stories, whether it's funding solutions, best-in-class apps, or deployment solutions.
4. This SIG will help you advocate for the use of mobile technologies, stay on top of trends, and learn from the experience of others.
5. SIG membership is new and hip. Who doesn't want to be part in the in-crowd? Seriously, though, get access to exclusive SIG information and communiqués that you will be sure to find informative, authentic, and valuable.
Best of all, becoming a member of the VSTE Mobile Learning SIG is free and easy. Just request to join the Edmodo group.
There are lots of ways to get involved: from sharing resources to posting to the Twitter account and more. Let us know what you might like to do by completing our interest survey.

Webinar Archives:
Thursday, March 14, 2013, 8 PM: iPad Deployment
Come join us as information, resources, and lessons learned are shared concerning iPad Deployment in our school district. Presented by: William Waller, Technology Services Coordinator, Richmond City Public Schools and VSTE Board member. Archived Recording PowerPoint
Thursday, January 10, 2013, 8 PM: iLearn, Learning Snapshots from an Elementary iPad Program
What does it look like when students are engaged in creating their own expressions of learning with multimedia on the iPad? Come learn how you can use the iPad for student productivity, creativity, and multimedia. We will discuss classroom management strategies and apps to use for creativity, productivity, and student publishing. Participants will learn how to use this media-rich resource effectively with students it the classroom. Presented by: Camilla Gagliolo, Instructional Technology Coordinator, Arlington Public Schools, Apple Distinguished Educator, Class of 2007, and Mobile Learning SIG President Archived Recording
April 12, 2012, 7 PM Webinar
Digital Storytelling with iPads
Photos, video, animation, sound, music, text, and narration…bring all of these together as students create and collaborate. Katie Neville, Vice President of VSTE's Mobile Learning Special Interest Group, and Laura Briggs, VSTE Board Director, share strategies for engaging students in research, writing, and using their imaginations! The webinar will be held in our Adobe Connect Room. Thanks to Adobe for providing our room! Archived Recording Presentation Website
March 14, 2012, 7 PM Webinar
Reading, Writing and Publishing on the iPad, Camilla Gagliolo, Mobile Learning SIG President
Learn how students use apps to access interactive books, conduct research, create books and publish their own products and eBooks on the IPad. We will discuss apps to use and strategies to use in the classroom. Camilla is Instructional Technology Coordinator for Arlington Public Schools. The webinar will be held in our Adobe Connect Room. Thanks to Adobe for providing our room! Archived Recording NOTE: You can continue this conversation at VSTEOnline!
March 28, 2012, 7 PM Webinar
Mobile Math
Goochland County Public Schools has been using mobile devices since the days of the iPod Classic. This year, Goochland County has deployed a combination of devices (iPod Touch and iPad) both at the elementary and secondary level. Bea Cantor, Goochland County ITRT and Mobile Learning SIG secretary will present this session. Some of Bea's favorite apps focus on Math. Bea will share her favorite apps and how they can be used to design engaging learning activities. The webinar will be held in our Adobe Connect Room. Thanks to Adobe for providing our room! Archived Recording