iEARN
Posted by John Hendron on 03/17 at 04:00 PM
Audience for this resource: Teachers, Administrators, ITRTs, 3-5, 6-8, 9-12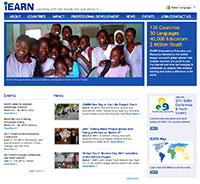 iEARN offers projects for collaborating with other educators from across the world. While a fee is involved in joining iEARN, this highly respected resource is a valuable meeting place for like-minded educators who want to give students a global perspective on learning.
We invite you to access this resource here:
---
About the Reviewer John Hendron:
John Hendron is supervisor of instructional technology for Goochland County Public Schools in central Virginia. He's been in the field of education for over a decade. In 2006 he was recognized by the Virginia Department of Education for technology leadership in Virginia. He holds degrees from the University of Rochester (NY), Case Western Reserve University (OH), and Virginia Tech.
---
Blog Archives